see. trust. act.
Real-time
High fidelity
Actionable intelligence
Actionable intelligence at the edge
The first high-fidelity, real-time, assured-position reconnaissance system that generates annotated 3D representations of the world.
Capture changing environments rapidly
Vanguard systems capture rich, 3D maps from the front of vehicles.
Data is presented in real-time to ground teams, and fed back to central command-and-control systems.
Ruggedised for use in extreme conditions

Flexible placement retrofit almost any vehicle
Touch screen with f

lexible mount options
Wirelessly share data in real-time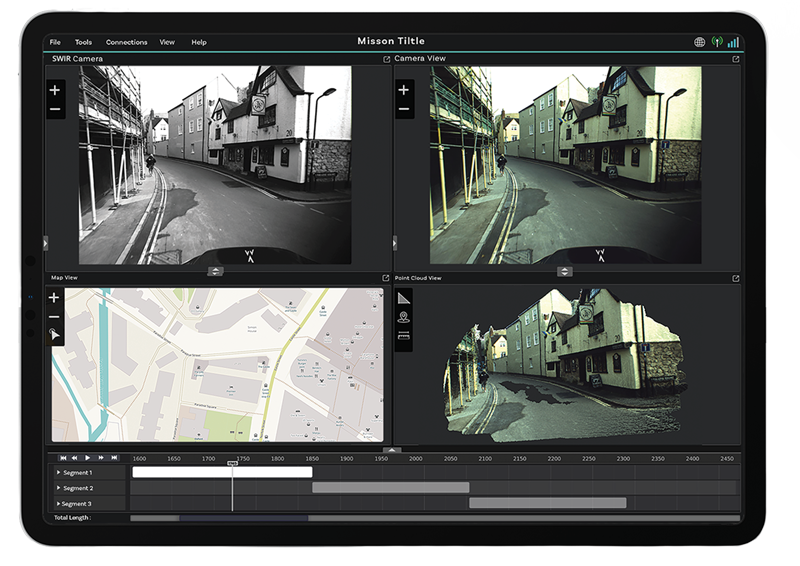 An intuitive UI makes Vanguard simple to operate with minimal training.
Users interact in real-time with the 3D scene intelligence (labels, routes, measurements, threats, obstacles, positions) then share these insights with others in real-time or afterwards.
Vanguard's 3D Pandion cameras are modular, self-contained and can be retrofit to almost any vehicle.
Available in a variety of configurations including lightbar and quad camera.
day (including low light)
night (complete darkness)
fog
Reduced risk to vehicles and personnel, with alerts for rollover,  collision or entrapment.
Vanguard super-human vision for trusted machines
Developed in field trials with our partners, Vanguard solves real-world problems for defence and public safety, emergency services and mining.
Download the relevant brochure below to learn more.
Effective disaster response depends on prepared teams, efficient coordination and effective systems. Vanguard systems rapidly capture rich, 3D maps from the front of vehicles, passively capturing changing environments as responders move into an area. 
Intelligence, surveillance and reconnaissance (ISR) missions are an essential part of a tactical commander's planning cycle. Mission success is underpinned by accurate, timely and actionable intelligence. Vanguard empowers the tactical commander with unique ISR capabilities.
Take a closer look at our technology in action